WREATH WORKSHOP AT KOKEE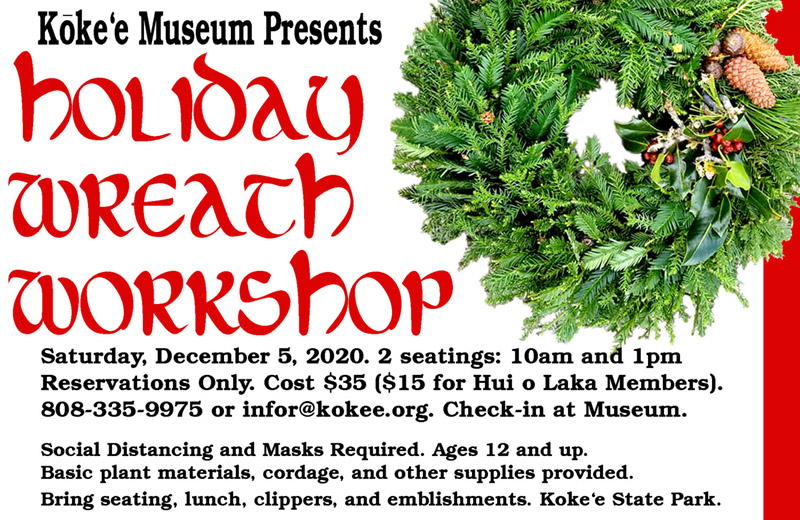 Wreath Workshop
KOKEE - Come up to Kokeʻe and de-stress while making your own evergreen holiday wreath on Saturday, December 5, 2020. We provide the greens – cypress, redwood, china fir, and pinecones. You provide the embellishments to make the creation uniquely your own. Embellishments can include ribbons, fresh and dried plant materials, and ornaments. Remember you do need a DLNR permit to pick native plants (any plants actually) at Kokeʻe. We encourage everyone to use plants grown in your yard rather than harvesting native forest plants.
Bring clippers or heavy shears, appropriate outdoor clothing, folding chair and/or mat, and brown bag lunch. You can bring a small popup tent or beach umbrella to ensure comfort rain or shine. Participants can work on a wreath throughout the day. Suggested for ages 12 and up. Please carpool if possible as parking is limited to registered participants. Any children not participating, need to have someone minding them.
This year we will be doing things differently to accommodate COVID distancing. All participants need to wear masks and spread out with only households allowed to sit close together. We will offer two seatings – 10 am and 1 pm. Check-in at the Kokeʻe Natural History Museum at least 15 minutes prior to the workshop which will be held at the CCC Camp.
Cost for the workshop is $35 ($15 for Hui o Laka Members). You must RSVP at 808 335-9975 or info@kokee.org to guarantee a spot. Let us know if you are a member when making your reservation so check-in is smoother.